Sile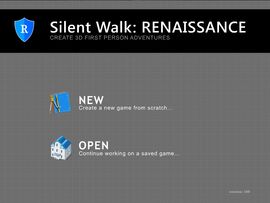 Silent Walk Renaissance is a new and improved version of Silent Walk 1.1.
MAIN FEATURES-
- Rewritten Game Editor and Game Engine
- Improved enemy AI
- Added game scripting via GML
- Added multi-floors with built-in stairs creator
- Added new Weapon Editor
- Added melee weapon handling
- Added weapon animations
- Added pixel perfect shoot/attack hit handling
- Added fully scriptable player HUD
- Added animated texture support (even on HUD)
- Model formats: MAN, GM, OBJ, MD2
- Texture formats: PNG, BMP, GIF, JPG, TGA, PCX, GMSPR
- Added 3D Particle System
- Added Skybox
- Added built-in model editor
This version of Silent Walk improves many features that were buggy in Silent Walk 1.1, with an addition of new ones. Of course, some features are still buggy, but that is to come with any other game creating software out there. Also, Silent Walk Renaissance is completely free!
Ad blocker interference detected!
Wikia is a free-to-use site that makes money from advertising. We have a modified experience for viewers using ad blockers

Wikia is not accessible if you've made further modifications. Remove the custom ad blocker rule(s) and the page will load as expected.